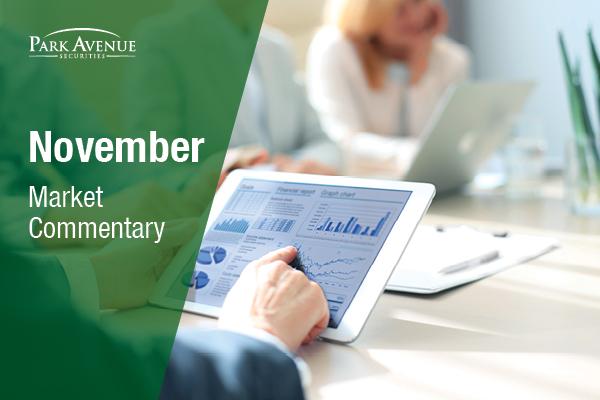 Monthly Market Commentary - November 2023
Market Update
Asset class returns declined broadly for the third consecutive month in October.
Treasury yields continued to climb and put pressure on both equity and fixed income assets as the 10-year yield reached 5% for the first time since 2007. In addition, a tepid start to the corporate earnings season combined with geopolitical uncertainty exacerbated risk aversion for many investors during the month.
Domestic large-cap stocks (S&P 500 Index) outperformed small-cap stocks (Russell 2000 Index) by a wide margin, returning -2.1% and   -6.8% respectively, as mega-cap technology stocks outperformed.
Bonds declined for six consecutive months for the first time since inception of the Aggregate Index in 19761. Bonds fell -1.6% for the month of October.
Non-U.S. Developed (MSCI EAFE Index) and Emerging Markets equities (MSCI EM Index) underperformed U.S. large cap stocks, falling -4.1% and -3.9%, respectively. Expectations for slower economic growth in Europe and the ailing property sector in China weighed on non-U.S. stocks.
Domestic and non-U.S. Developed equity returns remain positive year-to-date, but performance has declined meaningfully since the July highs.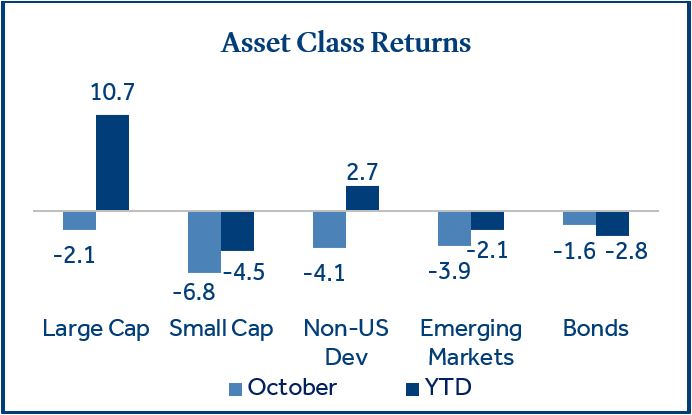 U.S. Stocks
Growth-oriented, large-cap stocks have led the way year-to-date.
Several factors have driven outperformance for large-cap core and growth stocks relative to other domestic equity categories this year:
Larger stocks overall can cushion the equity portion of a portfolio, relative to smaller stocks, during times of volatility and economic uncertainty like 2023.
Large cap indices contain little exposure to smaller regional banks which have struggled amid rising interest rates. They are also overweight technology stocks, which have been a top performing sector year-to-date.
Mega-cap technology stocks (e.g., Alphabet, Amazon, Apple, Meta, Microsoft, NVIDIA, and Tesla) have driven almost all year-to-date gains in the large cap core and growth indices. However, the weight of these stocks is much higher in the large growth index (47%)1 vs. the large core index (28%)1 and has provided an additional boost to large cap growth returns. 
Large cap outperformance has led to a widening valuation gap as the price-to-earnings (P/E) ratio for the S&P 500 Index (22)1 is well above the Russell 2000 Index (12)1. It could be an appropriate time for valuation conscious investors to reassess their allocation to small cap stocks.

Interest Rates
The 10-year U.S. Treasury yield increased for the sixth consecutive month.   
The 10-year Treasury yield added over 100 basis points since mid-July and has been assigned much of the blame for the pullback in equities, as borrowing costs have risen for businesses and consumers. Rates have been rising consistently since the Federal Reserve (the Fed) began their rate hike campaign in March 2022. However, a shift within the trend of rising rates is that longer-term rates have risen more than short-term rates. There are several potential drivers to the recent rise in longer-term Treasury yields:
Fed rhetoric that interest rates will remain higher for longer amid elevated inflation.
U.S. economic data has surprised to the upside as GDP, retail sales, and nonfarm payrolls all surpassed recent expectations.
The risk premium to hold longer-dated Treasuries may be rising as global economic uncertainty and geopolitical tensions mount.
Historically, inverted yield curves have preceded recessions2, but the curve tends to de-invert before a recession actually begins. The chart below depicts the Treasury curve de-inverting over recent months as yield spreads between short and long-term rates have narrowed, this development has put many investors on recession watch.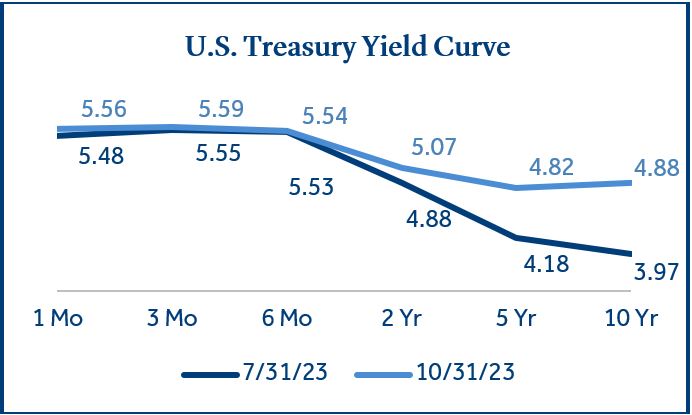 Recession Watch
U.S. economic data has provided mixed signals.
Although GDP, retail sales, and nonfarm payrolls all exceeded their most recent estimates, several potential economic headwinds remain: 
The Consumer Price Index (3.7%) is hovering above the Fed's 2% inflation target and has risen or been flat for three consecutive months. Oil prices declined in October, but they have increased 8.1% year-to-date and could put pressure on headline inflation.
The Leading Economic Index (LEI), designed to indicate the direction of the economy, has declined for 18 consecutive months with nine of the index's ten components flat or negative in September3. 
Consumers may come under pressure as  student loan payments resumed, pandemic savings have declined4, and borrowing costs have risen.
The full impact of higher rates remains to be seen as a change in the Fed Funds rate is estimated to take 12-24 months to fully affect the economy. As the economic picture remains unclear, it's important for investors to be diversified.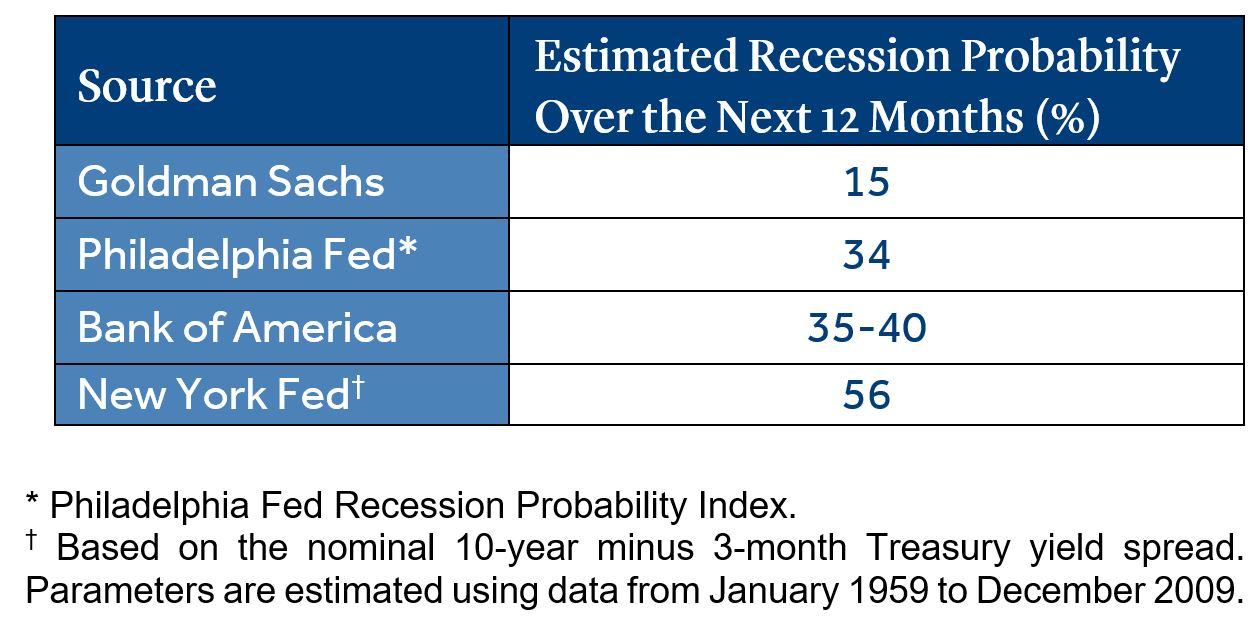 Geopolitical Risk
Conflict in the Middle East created additional uncertainty for investors.
First and foremost, our thoughts go out to those affected by recent events in Israel and the Middle East. It's often difficult to predict the impact of geopolitical events on capital markets and the global economy. A few key points surrounding the current conflict:
A primary market concern associated with conflict in the Middle East is rising oil prices, which have the potential to put upward pressure on inflation and dampen consumer spending. Although the price of oil initially increased 4.3% the trading day following the attacks in Israel, the price declined -8.7% for the month of October.
The risk of escalation is top of mind for many investors. A broader conflict involving OPEC member countries (e.g., Saudi Arabia and Iran) could have economic ramifications.
The initial effect on stocks was muted. The S&P 500 and MSCI EAFE (Non-US) Indices both registered positive returns in the first trading week following the beginning of the conflict.
Historically, geopolitical events lead to increased market volatility in the early stages, but it often subsides quickly5. A 2022 Mercer paper "Peering through the Fog" analyzed 20 geopolitical events (e.g., Iraq war, Brexit vote, etc.) ranging from 1939 to 2017 which indicated the following: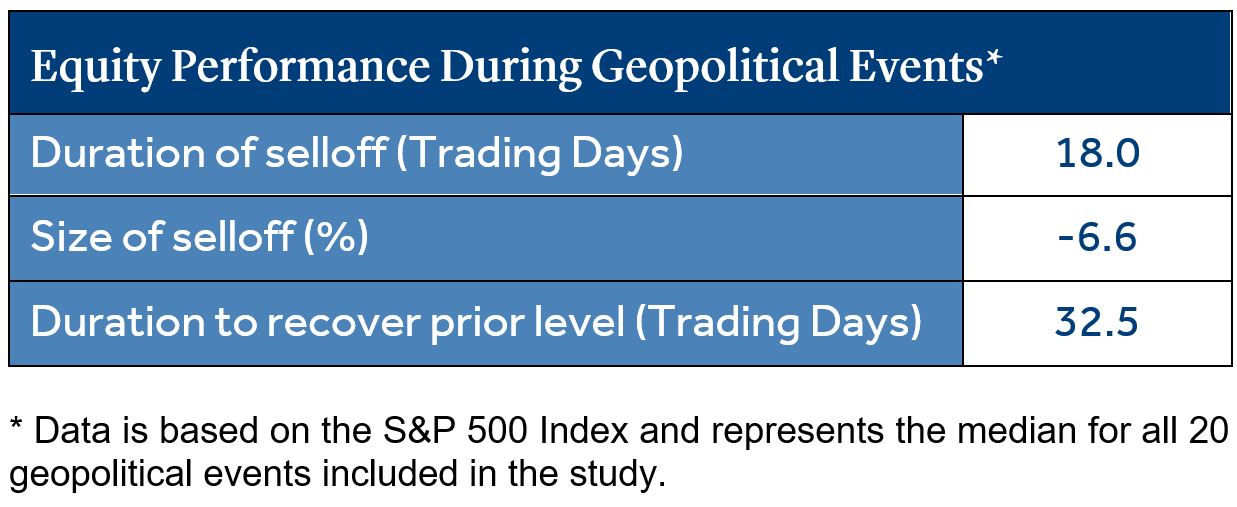 Economic Calendar
The Fed held short-term rates steady to begin November.
The decision to hold rates steady on November 1 was expected by many as Fed Funds futures suggested a 98% probability there would be no change in the short-term lending rate6.
The policy making committee is likely near the top of the rate hike cycle as current Fed projections indicate the potential for one additional interest rate hike.
Fed chair Jerome Powell stated, "the process of getting inflation sustainably down to 2% has a long way to go." As of November 1, Fed Funds futures suggested the first rate cut is most likely to occur in June 2024.
The Fed has continued to reduce its bond holdings (quantitative tightening) which has decreased the central bank balance sheet from $9 trillion to $7.9 trillion since March 20227.
Nonfarm payrolls will continue to be a focal point for investors as strength in the labor market has been a primary supporter of a soft-landing narrative for the U.S. economy.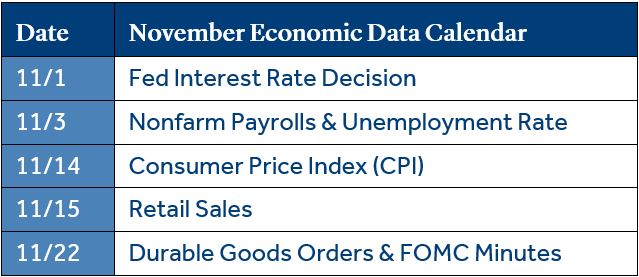 Click here to download the full report.
Data and rates used were indicative of market conditions as of the date shown. Opinions, estimates, forecasts, and statements of financial market trends are based on current market conditions and are subject to change without notice. This material is intended for general public use and is for educational purposes only. By providing this content, Park Avenue Securities LLC is not undertaking to provide any recommendations or investment advice regarding any specific account type, service, investment strategy or product to any specific individual or situation, or to otherwise act in any fiduciary or other capacity. Please contact a financial professional for guidance and information that is specific to your individual situation. Indices are unmanaged and one cannot invest directly in an index. Links to external sites are provided for your convenience in locating related information and services. Guardian, its subsidiaries, agents, and employees expressly disclaim any responsibility for and do not maintain, control, recommend, or endorse third-party sites, organizations, products, or services and make no representation as to the completeness, suitability, or quality thereof. Past performance is not a guarantee of future results.
Capital market returns sourced from Morningstar Direct. Asset categories listed correspond to the following underlying indices: Large-cap (S&P 500), Small-cap (Russell 2000), Non-US Dev (MSCI EAFE), Emerging Markets (MSCI EM), Bonds (Bloomberg US Aggregate Bond), Oil (DJ Commodity Crude Oil).
U.S. Equity Style and Size Returns soured from Morningstar Direct. Asset categories listed correspond to the following underlying indices: Large Value (Russell 1000 Value), Large Core (S&P 500), Large Growth (Russell 1000 Value), Mid Value (Russell Mid Value), Mid Core (Russell Mid Cap), Mid Growth (Russell Mid Growth), Small Value (Russell 2000 Value), Small Core (Russell 2000), Small Growth (Russell 2000 Growth).
Treasury Yields sourced from the U.S. Department of the Treasury.
1 Source: Morningstar Direct
2 Source: London School of Economics
3 Source: The Conference Board
4 Source: Federal Reserve Bank of New York
5 Source: Mercer LLC
6 Source: CME FedWatch Tool
7 Source: Federal Reserve
Durable Goods measure the cost of orders received by U.S. manufacturers of goods meant to last at least three years.
Retail Sales represents the level of retail sales directly to U.S. consumers.
The Consumer Price Index (CPI) examines the weighted average of prices of a basket of consumer goods and services, such as transportation, food and medical care and is a commonly used measure of the rate of inflation.
Fund Funds Rate: Short-term target interest rate set by the Federal Open Market Committee (FOMC); the policy making committee of the Federal Reserve. It's the interest that banks and other depository institutions lend money on an overnight basis.
S&P 500 Index: Index is generally considered representative of the stock market as a whole. The index focuses on the large-cap segment of the U.S. equities market.
Russell 2000 Index: Index measures performance of the small-cap segment of the U.S. equity universe.
MSCI EAFE Index: Index measures the performance of the large and mid-cap segments of developed markets, excluding the U.S. & Canada.
MSCI EM Index: Index Measures the performance of the large and mid-cap segments of emerging market equities.
Bloomberg U.S. Aggregate Bond Index: Index measures the performance of investment grade, U.S. dollar-denominated, fixed-rate taxable bond market, including Treasuries, government-related and corporate securities, MBS, ABS, and CMBS.
Park Avenue Securities LLC (PAS) is a wholly owned subsidiary of The Guardian Life Insurance Company of America (Guardian). PAS is a registered broker-dealer offering competitive investment products, as well as a registered investment advisor offering financial planning and investment advisory services. PAS is a member of FINRA and SIPC. 
2023-164043 (Exp. 10/25)